At the end of July 2018 we regulated 221 practices (231 in June 2017) with a combined turnover of over £227m (£214m in 2017). We also license 1,374 individuals as at June 2018 (1,374 in June 2017).
We only undertake regulation, and that accounts for all of our income and expenditure.
Procurement policy
The CLC's standard procedure is to obtain three quotes before procuring goods or services. On occasion due to urgency or use of specialist suppliers the requirement to procure 3 quotes can be waived and a single tender action can be utilised, the reasonableness of the cost will however still be assessed.
Income in 2017 and 2018
Regulated practices pay an annual fee to fund the work of the CLC and make a contribution to the Compensation Fund. Both are based on the firm's turnover. Individuals also pay a fixed licence fee. Practice fees rates were cut by 20% in 2016. Practice fee rates remained unchanged during 2017. An increase in the turnover of CLC firms coupled with a need to reduce reserve levels have allowed us to make a 10% reduction in the practice fee rates for 2018. These changes will come into effect in November 2018.
In 2017, total income was £3.3m.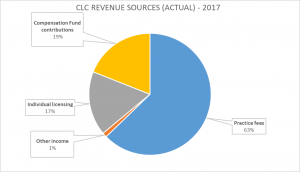 In 2018, based on half-year results, we project that the total revenue received will be £3.4m.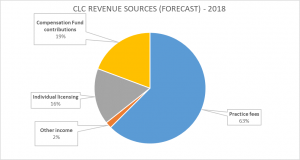 Expenditure 2017 and 2018
The CLC only undertakes the regulation of specialist conveyancing and probate lawyers. We are not engaged in any other activity. Accordingly, all of our expenditure arises from our regulatory responsibilities, as overseen by the Legal Services Board. The CLC also pays levies to fund the work of the Legal Services Board, Office for Legal Complaints and Financial Conduct Authority. Our application of the funds received in 2017 and 2018 is set out in two charts below.
2017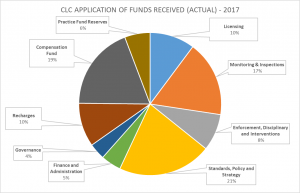 2018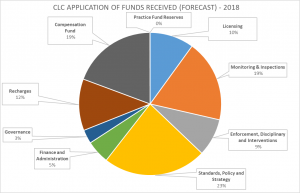 The revenue generated in 2018 is expected to remain at 2017 levels. The fee rate reduction to be implemented in November 2018 will mostly impact the 2019 revenue.
The activity categories are explained below.
Licensing
Assessing first applications to be regulated by the CLC and managing licence renewals to maintain the high standards of the CLC community.
Monitoring and Inspection
Routine and risk- or intelligence-based inspection visits to regulated practices, desk-based monitoring of compliance with CLC standards.
Enforcement, Disciplinary and Interventions
Addressing non-compliance, active management of firms on the watchlist, including referral to the CLC's Adjudication Panel and their proceedings as well as interventions to close firms where necessary for consumer protection and the related follow-up work.
Standards, Policy and Strategy
Developing, communicating and maintaining regulatory policies and standards, promoting and supporting achievement of best practice. Setting the course for the CLC, taking account of the changing environment and legal market place and evolving best practice in regulation. Carrying out Research.
Finance and Administration
Managing the resources provided by the regulated community.
Governance
Non-executive oversight and steering of the CLC's work, including external and internal audit.
Recharges
Payments made by CLC on behalf of the regulated community to fund the work of the Legal Services Board, Office for Legal Complaints and Financial Conduct Authority in respect of CLC-regulated practices.
Compensation Fund
The fund of last resort for clients of CLC firms. Administered by the CLC on behalf of the regulated community.
Practice Fund Reserve
An allocation to organisational reserves to enable the CLC to deal with unexpected demands on its resources from time to time.