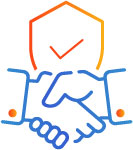 Be personal
With increasing automation, personal
touches are often lost. In a study of 1000
calls at over 100 firms:

of firms made no attempt
to differentiate
themselves from
competitors, either during
the telephone enquiry or
in any follow-up email.
In over a third of all calls, neither party
knew who they were talking to, as the
caller's name was not taken and the call
handler had not introduced themselves (2*).

of clients particularly
value a conveyancer who
keeps in touch once a
week. Doing this will also
increase the likelihood of
returning customers and
referrals. (3*)