Checklist
Yet, as onerous as all this sounds, a bit of forward-planning goes a long way in a property transaction. Being prepared increases your chances of a seamless, quick transaction. So, with that in mind, it's worth being aware of these checks in advance and getting the documentation together that you need at the outset.
You will need to show:
A proof of identity document, such as a passport or driving licence. A full list of official identification documents is available on the government's website.
Proof of your current address, such as a driving licence, bank statement, or utility bill (not more than three months old). A full list of proof of address documents is available on the government's website.
Proof of where your funding has come from, this might include your last three months' payslips; a P60 from your employer; tax return and other documents if you are self-employed. More information on the documents you need are available on the Money Advice Service website.
If some, or all, of your funding is coming from inheritance, you will need evidence from the executors of the estate. If you have money coming from a family member, you will need a letter from them confirming that the money provided is a gifted deposit and that they have no rights over the property.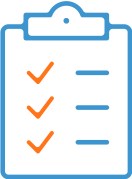 Remember, checking this information is a legal requirement to help safeguard your transaction, and failing to provide it in a timely manner will only slow down the transaction. If you want to know any more about the property buying and selling process, read the CLC's guides on buying or selling your home.