IMPROVING THE HOME BUYING AND SELLING PROCESS
Better information for potential clients
The drive to improve consumer information to help them choose their lawyers received a significant boost in April from the Ministry of Housing, Communities and Local Government (MHCLG).
In their response to their call for evidence on improving the home buying and selling process, MHCLG said it would 'work with industry and consumer groups to develop solutions using more transparent data, standard metrics, kite marks and quality standards'.
This supports the work that the CLC is doing to increase the information made available by our own regulated community. The Chief Executive of the CLC is also coordinating work across the sector to ensure that there is a consistent approach that provides a level playing field for all lawyers and empowers consumers. This is the sector's response to recommendations from the Competition and Markets Authority following their market study of legal services.
Transparency of referral fees
In the same document, MHCLG explained that it had decided for the time being not to ban referral fees in conveyancing. The response to the call for evidence said MHCLG would: 'work with industry to standardise the presentation of referral fees and ensure that customers are made aware of any potential referral fee before they make a decision whether to purchase'.
This means that estate agents will need to disclose the fact and amount of any referral fee they may receive when making that referral. At the moment, the client often first learns about that fee from their conveyancer in a letter of instruction. By that time, the client is unlikely to consider shopping around for another possible provider.
The CLC is pleased with this outcome, because it seeks to shift the moment of transparency to the correct point in the process. It also avoids what could be damaging disruption to the industry from an outright ban.
Work across the legal sector to improve information for clients as they make their choice of lawyer should over time increase the propensity of consumers to shop around, whether independently or through comparison websites.
This could lead to a gradual shift away from referral fees in a way that is manageable for the industry. It would allow estate agents time to reduce their reliance on referral fee income and allow conveyancers to strengthen other channels to market to maintain their pipeline of business.
Digital mortgage deeds
In early April, HM Land Registry (HMLR) confirmed that the first digital mortgage deed has been entered on the register, using the government's Verify service for the mortgage holder to sign the deed. This development is part of HMLR's ambition to make property transfer faster and simpler.
We are pleased that this involved a CLC firm. We are also pleased to be supporting pilots of other digital tools that could offer similar streamlining of the conveyancing process to help the consumer and support innovation in the industry.
ECONOMIC AND MARKET INDICATORS
The figures and opinion remain mixed. Cause for optimism may helped by lower than expected inflation rates that may take pressure off the Bank of England to raise interest rates in May. Nonetheless, high remortgage activity seems to reflect consumer expectations of interest rate rises and an effort to fix their costs now.
One possible interpretation of the mixed picture across the country is that we are seeing the slow beginnings of a rebalancing of the housing market between London and the rest of the UK and that policy choices on stamp duty and help to buy are beginning to have their desired effect.
Office for National Statistics House Price Index – February
ONS found that average house prices in the UK have increased by 4.4% in the year to February 2018. Average house prices were found to have fallen by 0.1% on the month, driven mainly by a fall in London, which saw and annual 1% fall.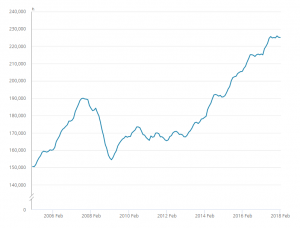 Source: HM Land Registry, Registers of Scotland, Land and Property Services Northern Ireland and Office for National Statistics
The main contribution to the increase in UK house prices came from England, where house prices increased by 4.1% over the year to February 2018, with the average price in England now £242,000. Wales saw house prices increase by 4.8% over the last 12 months to stand at £153,000.
The chart below shows the annual house price rates of change for the year to February 2018 by English region.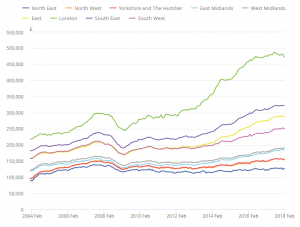 Source: HM Land Registry and Office for National Statistics
UK Finance – February mortgage figures
The picture from UK finance is rather more encouraging. They found that mortgage lending for first-time buyers, home movers and remortgagors increased in February 2018 compared to the previous year. Total homeowner house purchases, which combine both home movers and first-time buyers, reached 50,000, the highest level for February since 2007. The growth in remortgages year-on-year is likely to be a result of home owners looking to fix costs ahead of anticipated interest rate rises.
UK Finance found that:
There were 25,200 new first-time buyer mortgages completed in February 2018, some 2.4 per cent more than in the same month a year earlier. The £4bn of new lending in the month was 2.6 per cent more year-on-year. The average first-time buyer is 30 with a gross household income of £41,000.
There were 24,800 new home mover mortgages completed in the month, the same as in February a year earlier. The £5.3bn of new lending in the month was 1.9 per cent more year-on-year. The average home mover is 39 and has a gross household income of £55,000.
There were 35,400 new homeowner remortgages completed in the month, some 11.3 per cent more than in the same month a year earlier. The £6bn of remortgaging in the month was 11.1 per cent more year-on-year.
There were 5,200 new buy-to-let house purchase mortgages completed in the month, some 8.8 per cent fewer than in the same month a year earlier. By value this was £0.7bn of lending in the month, 12.5 per cent down year-on-year.
There were 14,100 new buy-to-let remortgages completed in the month, some 20.5 per cent more than in the same month a year earlier. By value this was £2.2bn of lending in the month, 15.8 per cent more year-on-year.
Bank of England Credit Conditions Survey – Q1 2018
While the survey found that the availability of secured credit to households was unchanged in Q1, the demand for secured lending for house purchase was reported 'to have decreased significantly in Q1, driven by a fall in demand for both prime and buy-to-let lending, but lenders expected the market to pick-up in demand in Q2.' Default rates on secured lending fell significantly in Q1, for the fourth consecutive quarter and were expected to keep falling.
RICS Residential Market Report – March
There were some lurid headlines about RICS' Residential Market Survey of March 2018 (Stamp duty and Brexit 'have killed London market', says Rics report). While the report is certainly downbeat, the widely-used headline was a quote from one particular respondent to the survey. It seems the market is slowing, and prices are falling, in London and the South East while other areas are seeing price increases.  At the national level therefore, RICS' price indicators remain flat. Estate agent's stock levels are close to an all-time low.
The Nationwide House Price Index for March
Nationwide found annual house price growth steady at 2.1% but with a 1% annual fall in London prices. Their chief economist notes 'historically low unemployment and mortgage interest rates together with the lack of properties on the market is likely to provide some support for house prices. Overall, we expect house prices to be broadly flat, with a marginal gain of around 1% over the course of 2018.'
Building Societies Association – Consumer sentiment
Given all of the above, it is not surprising that the BSA's quarterly survey of 2,000 consumers across Britain found those in London and the South East the gloomiest about the housing market although overall sentiment is more negative than in March 2017. The table shows whether people are more positive or more negative about their prospects of buying a new home.