ABSs Leading the Way on Information Technology
13 April, 2016
Among CLC-regulated practices, Alternative Business Structures (ABSs) are three times more likely than recognised bodies to offer novel online solutions for clients wishing to access their services. That's the finding from analysis of data gathered during last year's Annual Regulatory Return.
In recent years the Solicitors Regulation Authority (SRA) and the overarching regulator for the legal sector, the Legal Services Board (LSB), have released several reports suggesting that SRA-regulated ABSs made greater use of new information and communication technologies (ICT) than traditional solicitors' firms.
Research by the SRA in 2014 found that 62% of ABSs were investing in technology, and it is probably not mere coincidence that the same proportion of respondents claimed to be investing in marketing and in changing "the way legal services are delivered".
A 2013 LSB survey found that:
In all, 91% of [ABSs] indicated having a website that they used to deliver information and other services to their customers. This included basic information, online case tracking and feedback systems. This compares to just 52% of other solicitors' firms having a website they used for advertising, and 6% using legal networks websites.
Assuming there would be a similar pattern of technology usage in our own practices, the CLC decided to examine the available data, and although it is not directly comparable, it nevertheless reveals a substantial disparity in the use of innovative ICT between the majority of CLC-regulated practices and the newer model businesses.
In the Annual Regulatory Return we provided a list and asked managers to tick all the means by which clients could access their services. As you can see from the responses set out in the table below, 44.4% of ABSs provide clients some form of online interactive service other than (and probably in addition to) e-mail, but only 14.6% of recognised bodies do the same: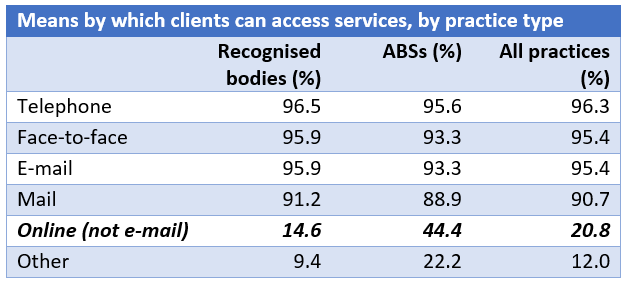 The LSB's research suggests that "while ABS organisations provide services to a wide range of consumers, they are more likely to serve business consumers as opposed to individuals". Perhaps the greater use of ICT among ABSs is necessary for dealing with commercial work in bulk, but even the largest CLC-regulated practices work primarily for private individuals.
People – individual consumers – increasingly expect to be able to find, purchase, and monitor the progress of services online, and if the providers of legal services wish to remain competitive, then all of them must bear in mind their customers' expectations.